Home New Patient Forms
New Patient Forms
What to
Expect
Your care and comfort are our top priority! Our goal is an experience that is as pain-free as possible. We offer different sedation options to make you feel at ease during your procedure.
Pinnacle's front office staff will help you with appointments, paperwork, and answer any questions you might have.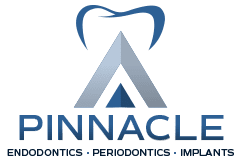 Patient
Appointments
To be respectful of our patients, we only can see you by appointment. We make every effort to be on time, and we ask the same courtesy from you. If you are unable to keep your appointment, please contact us immediately.
We ask a minimum of 48 hours notice for canceling an appointment to avoid any missed appointment fees. We do understand that unexpected illnesses or emergencies come up, so we will work with you to reschedule your appointment.
What to
Bring
Please bring a driver's license or other valid identification cards, your dental insurance card (if you have insurance), doctor referral, and the new patient forms.
Insurance and
Payment
We accept all insurances and are in-network with most PPOs.
It is our policy to have treatment paid in full when service is rendered. We accept all major credit cards, cash, or personal checks. We also participate in Care Credit financing.
Post Operative Care
Here are a few home-care instructions.
For the first few days, you may experience bruising, numbness, or swelling. Apply ice to the area for the next 10 to 12 hours, alternating 20 minutes on and 20 minutes off. Over-the-counter pain medicine can treat any pain or discomfort following the surgery. In some severe cases, your doctor may prescribe stronger pain medicines.
Swelling is normal, so do not be alarmed. To minimize swelling, apply an ice bag, or a towel filled with cracked ice, over the affected area on and off every 10 minutes for the first 10 to 12 hours. After 24 hours, use moist heat such as a warm washcloth over the affected area. Bruising may also occur with the swelling and may last 10-14 days.
Eat and drink on the opposite side of the mouth for 24 hours, and stay with foods of soft consistency.
Do not rinse or wash your mouth today. Tomorrow, rinse every 3 hours with a solution consisting of 1⁄2 teaspoon of salt dissolved in a glass (8 oz) of warm water.
Keep the area clean. Brush gently and carefully in the surgical area. Brush gently downward for upper teeth and upward for lower teeth. Do not floss the affected area for 3 to 4 days. You may swab the area with a Q-tip moistened with a solution of 1⁄2 water and 1⁄2 hydrogen peroxide daily.
If your sutures are resorbable, they will dissolve on their own and not require removal.
If your sutures are non-resorbable, an appointment will be scheduled for suture removal.
Mild to moderate pain may be experienced after the anesthetic wears off.
If you do experience discomfort, take a combination of over-the-counter Tylenol + Advil/Motrin/Ibuprofen (which is available in 200mg tablets). Take no more than 1000mg Tylenol and 600mg Motrin a maximum of 3 times per day (morning, afternoon, evening). Do not exceed this amount.
If you are allergic to these medications or your physician has instructed you not to take these meds, please tell us and do not take any.
Antibiotics are usually not required following endodontic treatment. If you are prescribed an antibiotic, take as directed. Always complete the entire prescription unless you react to the medication (diarrhea, rash, hives, etc.). If this occurs, discontinue and please call our office.
In case of extreme pain, uncontrolled bleeding, or any unusual problems, please call our office immediately at (407) 532-9856.